Home
Talk

96
6,079pages on
this wiki
Explore
Explore more
"Space, a wondrous realm where heroes are forged, a place of peril and adventure, and... and ARGH! I can't do this!"
―Captain Qwark — Listen (file info)
---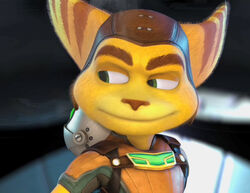 A Lombax was a bipedal, humanoid species that originated in the Polaris Galaxy from the planet Fastoon. Known throughout the galaxy for their mechanical and technological ingenuity, Lombaxes were cat-like and completely covered in either yellow or white velvety fur, with orange or maroon coloured stripes running down parts of their body. They had large ears and triangular feet with three claws on each foot, as well as large hands with five fingers. All known Lombaxes wore gloves, so it was possible that generally most Lombaxes wore gloves. Female Lombaxes did not have tails, as evident with Angela Cross.
Ratchet, Angela Cross and Alister Azimuth were the last known surviving Lombaxes in the dimension after the existing Lombaxes fled to another dimension in order to avoid being destroyed by Percival Tachyon. Many others were killed in the conflict trying to escape as well. Lombaxes had an innate affinity towards gadgetry and machinery. The Wrench appeared to be a traditional Lombax melee weapon.
The Lombaxes originated from the Polaris Galaxy where, years ago, they fought a Great War against the Cragmite empire. The Lombaxes were hailed as the saviors of Polaris after defeating the Cragmites. However, one Cragmite, Tachyon, survived. The Lombaxes then raised him, once he found out that he was a Cragmite, he raised an army against the Lombaxes. Taken by surprise, the Lombaxes fled to another dimension, with only two Lombaxes staying behind to hide the dimensionator from Tachyon.
Read more: Lombax
This month's featured user is:


— No featured user (nominate a user).


---

This month's improvement drive is:

Please improve the article in any way you can.

---

Suggest an article to be improved