Capitalization

The way the Ratchet & Clank wiki capitalizes words has changed; therefore, this article should be checked, and, if necessary, capitalization should be fixed.
For more information, see the new capitalization policy.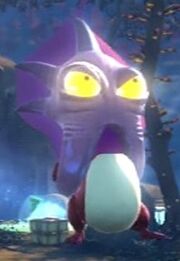 Razormoths were small flying star like squid creatures with large fangs native to Terrawatt Forest of planet Magnus. They fed on Critters, but would try bigger prey in groups. When using the commet orb to guide light while going through rosa mines, they would suck the energy from the orb.
Appearances
---