Capitalization

The way the Ratchet & Clank wiki capitalizes words has changed; therefore, this article should be checked, and, if necessary, capitalization should be fixed.
Clank… you speak nerd.

This article's layout needs improvements to comply with the Manual of Style.
Reason: No reason given.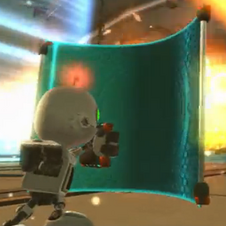 The
Reflector
was a
gadget
that appeared in
All 4 One
. When used, it created a shield in front of the player which would deflect attacks. Sometimes you have to use it to deflect a laser beam back at the laser gun. The Reflector seems very similar to the
Refractor
with its laser beam deflection ability.
The Reflector appeared next to the Glob Lobber and Quake hammer in the quick select.
Appearances
---
See also