Capitalization

The way the Ratchet & Clank wiki capitalizes words has changed; therefore, this article should be checked, and, if necessary, capitalization should be fixed.
For more information, see the new capitalization policy.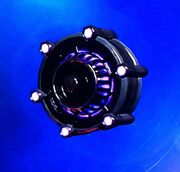 " Transdimensional software device. I'm going to have to give you a crash course. "
The Rift Cracker was an invention created by Pollyx that allowed Robots to cross in and out of realities. It allowed Clank to cross over into the Netherverse to lure a Nether back into the real world. By doing so, the Nether became unstable and set off a violent reaction which broke down walls and helped Ratchet and Clank to continue.[1] Clank's trandimensional software upgrade by Pollyx gave him the ability to bend gravity in the Netherverse.[2]
Appearances
Notes and references
↑

Ratchet & Clank: Into the Nexus game manual‏‎ manual