Capitalization

The way the Ratchet & Clank wiki capitalizes words has changed; therefore, this article should be checked, and, if necessary, capitalization should be fixed.
For more information, see the new capitalization policy.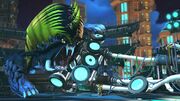 Rooftop Amphitheatre was the first and only segment of Luminopolis in All 4 One. It involved Ratchet, Clank, Qwark and Nefarious defending Luminopolis from the Light-Eating Z'Grute and Minions. After defeating the Z'Grute, they were captured by Ephemeris.
Enemies Introduced
Appearances