Sector (Full Frontal Assault)
Talk

17
Capitalization

The way the Ratchet & Clank wiki capitalizes words has changed; therefore, this article should be checked, and, if necessary, capitalization should be fixed.
For more information, see the new capitalization policy.
I'll just call you Clank for short!

"Sector (Full Frontal Assault)" is not the subject's real name. The real name is unknown, and a canonical nickname or title which is mentioned in the series is used instead, as deemed the most appropriate title.
(See the specific reasons in the "Behind the scenes" section and/or the relevant discussion on the talk page, if they exist.)
Sector
Astrographical
Planets
Societal
Affiliation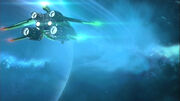 The
Sector
was a
sector
in the
Polaris Galaxy
that contained planet
Ebaro
. It was where the
QForce
was stationed on board the
Starship Phoenix II
.
Planets and Locations
Appearances