Capitalization

The way the Ratchet & Clank wiki capitalizes words has changed; therefore, this article should be checked, and, if necessary, capitalization should be fixed.
For more information, see the new capitalization policy.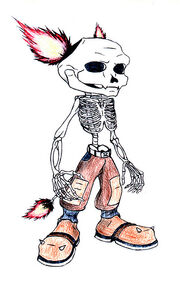 Skeleton Ratchet, formerly as Heck Fire Ratchet, was a skin in Ratchet & Clank: All 4 One. It featured Ratchet as a skeleton with fiery ears and a fiery tail. The skin was made available upon collecting all 42 Hero bolts as Ratchet.
Behind the scenes
The Heck Fire Ratchet design was created by Alejandro David Gonzalez for a skin design contest in the United States.
Appearances