Capitalization

The way the Ratchet & Clank wiki capitalizes words has changed; therefore, this article should be checked, and, if necessary, capitalization should be fixed.
For more information, see the new capitalization policy.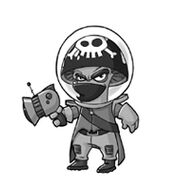 Space Pirates were fictional enemies that Qwark claimed to have defeated in Spaceship Graveyard. They or the Space Kudzu had captured space nuns. There were three types of Space Pirates; a sword pirate, a gun pirate, and a pirate in a cannon.
Types
Appearances