Capitalization

The way the Ratchet & Clank wiki capitalizes words has changed; therefore, this article should be checked, and, if necessary, capitalization should be fixed.
For more information, see the new capitalization policy.
" Knock foes off their ft by blasting them backwards with a dose of quantum energy. "
―Instruction Manual Weapon Description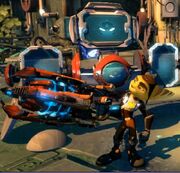 The Alpha Temporal Repulsor[1] was a temporal shotgun used by Ratchet.[2][3] It used quantum energy to add power to its ammo.[3] It upgraded into the Quantum Repulsor at V3.[3]
Appearances
Notes and references
↑ Into the Nexus instruction manual
---