Capitalization

The way the Ratchet & Clank wiki capitalizes words has changed; therefore, this article should be checked, and, if necessary, capitalization should be fixed.
For more information, see the new capitalization policy.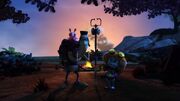 The Tharpod Elder was a Tharpod that lived in the Tharpod Village in the Aldaros Plains. He met with Ratchet, Clank, Qwark and Nefarious, and told them about Ephemeris, the Creature Collector, and Commander Spog. Ratchet mistook him for being Susie's father; however, he just cared for the orphans in the village, including Susie.
Appearances