Capitalization

The way the Ratchet & Clank wiki capitalizes words has changed; therefore, this article should be checked, and, if necessary, capitalization should be fixed.
For more information, see the new capitalization policy.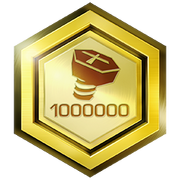 Thrifty is a gold trophy in Ratchet & Clank Future: A Crack in Time. Collect 1,000,000 bolts to obtain this trophy. This trophy does not require 1,000,000 cumulative bolts, as every bolt that is collected (even those already spent) will count.
Appearances
See also
|es = Ahorrador