Capitalization

The way the Ratchet & Clank wiki capitalizes words has changed; therefore, this article should be checked, and, if necessary, capitalization should be fixed.
For more information, see the new capitalization policy.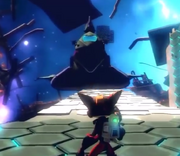 Thug Ships were warships used by Thugs-4-Less, almost around the same size as a Thugs-4-Less Carrier Ship. Thug Ships had three turrets, which carried a payload of Omnirockets. Thug Ships were also capable of latching onto enemy vessels, where they blew a hole into the opposing vessel, allowing Thugs-4-Less forces to board enemy vessels with ease. Another function of these vessels was the ability to haul large amounts of cargo, acting as freighter, a warship and a boarding craft.
Several of these vessels were used by Thugs-4-Less to board the Nebulox Seven Prison Ship, allowing Thugs-4-Less to rescue Vendra Prog. Later, these same vessels attempted to kill Ratchet and Clank.
Appearances