Capitalization

The way the Ratchet & Clank wiki capitalizes words has changed; therefore, this article should be checked, and, if necessary, capitalization should be fixed.
For more information, see the new capitalization policy.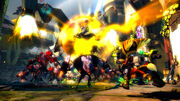 Thug Drop Ships were Thugs-4-Less dropships, much like the Thugs-4-Less Dropships used during the Protopet incident, except they were much larger. On both sides of the dropship, hatches would open up to release Thugs and Blade Balls.[1]
Appearances
Notes and references