Capitalization

The way the Ratchet & Clank wiki capitalizes words has changed; therefore, this article should be checked, and, if necessary, capitalization should be fixed.
For more information, see the new capitalization policy.
| | |
| --- | --- |
| | "Cut!" |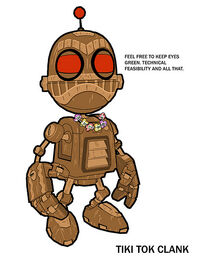 Tiki Tok Clank was the third place skin for Clank that is not featured in Ratchet & Clank: All 4 One. Clank had a wooden body, red eyes, and a Hawaiian necklace. Clank's full appearance derives from a Hawaiian tiki.
Trivia
If Insomniac Games put Tiki Tok Clank into the game, they may have changed his eye color to Clank's usual green, as the creator of the design did not mind.
Behind the scenes
Tiki Tok Clank's design was created by Christopher Martinez for the Ratchet & Clank: All 4 One skin design contest.