Capitalization

The way the Ratchet & Clank wiki capitalizes words has changed; therefore, this article should be checked, and, if necessary, capitalization should be fixed.
For more information, see the new capitalization policy.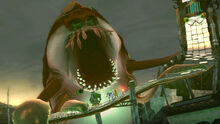 The Top of the Lighthouse was a location in Octonok Cay on Planet Magnus. It was used to help Tharpod fishers to get back to the seaside village.
Ratchet, Clank, Qwark and Nefarious fought and killed a King Sepiad on top the lighthouse.
It was the last location the group visited before going to Terawatt Forest.