Capitalization

The way the Ratchet & Clank wiki capitalizes words has changed; therefore, this article should be checked, and, if necessary, capitalization should be fixed.
For more information, see the new capitalization policy.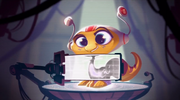 A Vectomorphic Tricilloscope or simply a Tricilloscope was a strange machine invented Dr. Croid and Nevo, which allowed the user to see through objects, much like an X-ray.
Appearances