Capitalization

The way the Ratchet & Clank wiki capitalizes words has changed; therefore, this article should be checked, and, if necessary, capitalization should be fixed.
For more information, see the new capitalization policy.
Clank… you speak nerd.

This article's layout needs improvements to comply with the Manual of Style.
Reason: No reason given.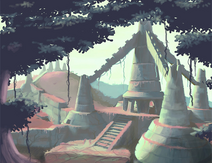 The Vetega Jungle was a purple-themed forest on the planet Ryllus that Ratchet explored. It was full of trees and plants and was the home of the Pygmy Tribesman and Razorback Cats. The Sprout-O-Matic was acquired here from Professor Sprout. There were also strange flying cameras around the whole jungle, which could be destroyed for a skill point. It also contained a Technomite Temple where the coordinates for the planet Kalidon were found. This location held the first Clank level for Ratchet & Clank: Size Matters.
Characters
Enemies
Appearances
---