Capitalization

The way the Ratchet & Clank wiki capitalizes words has changed; therefore, this article should be checked, and, if necessary, capitalization should be fixed.
For more information, see the new capitalization policy.
The Volcanox Armor was a lightweight, durable armor that offered 5% damage reduction, it also all but guaranteed "Best-Dressed" awards at high school reunions. It was inspired by Gadgetron's Infernox Armor.[1]
Behind the scenes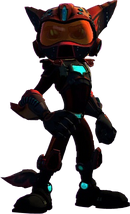 This armor is available as a pre-order bonus for Ratchet & Clank: Into the Nexus at certain retailers.[1] The card which gives the bonus code refers to it as Ratchet Armor.
Development
This armor is inspired by the Infernox Armor from Ratchet & Clank: Up Your Arsenal.[1] The Volcanox Armor was originally known as the Pyronox Armor.[1]
Appearances
Notes and references