Capitalization

The way the Ratchet & Clank wiki capitalizes words has changed; therefore, this article should be checked, and, if necessary, capitalization should be fixed.
For more information, see the new capitalization policy.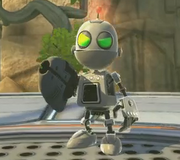 The
Zoni Blaster
is Clank's special weapon in
All 4 One
. Rumored to have been created in the halls of the
Great Clock
,
it was an extremely rare weapon by the Zoni that fired out a blue orb that slowed down enemies.
Appearances